Air Quality & Industrial Site Monitoring
Online GC systems for continuous monitoring of organic compounds in air and gaseous samples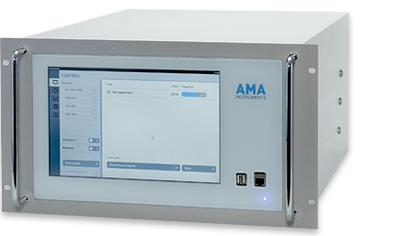 AMA Online Gas Chromatographs
AMA Instruments offers various series and configurations of online GC's for Air Quality & Industrial Site Monitoring of organic compounds covering a wide range of application requirements.
The AMA GC 4000 series features an isothermal column oven. This analyzer series will always be the first choice for monitoring of a single component or just a few components, which can be easily separated in the chromatogram.
The AMA GC 5000 series has especially been developed for demanding applications and features a temperature programmable column oven allowing for optimized peak separation. Various enrichment modules extend the range of monitoring applications to concentration levels in the ppt range making the GC 5000 series a perfect choice for air quality and industrial site monitoring applications.
Online GC systems of AMA Instruments have especially been developed for continuous operation under harsh conditions, such as in monitoring stations, mobile labs or at industrial sites. The instruments are characterized by their rugged and easily accessible design as well as their superior operational safety.
Convenient handling and operation
Each GC system features an integrated industrial PC providing easy access to all important analyzer functions. The glass front panel with fully integrated and high resolution 12,1″ capacitive touch display allows for intuitive setup and operation of the GC systems.
All analyzers will be controlled by our powerful AMA System Control Software with fully integrated PEAK.log™ Chromatography Data System. This enables the operator to easily setting up the instrument and observing the status of the gas chromatograph at site or remotely.
Superior operational safety
The AMA System Control Software continuously monitors all important parameters of the gas chromatograph. Any deviation from the normal operation will be recorded and saved into a SQL database. In case of permanent malfunctions or a serious instrument failure an error message will be transmitted to the data logger or control room.